Discussion Starter
•
#1
•
Hey peeps, I've got some some more parts coming to do another bit of an upgrade... lol, always modding this thing!
So recently I've done some changes to give it another bit of a bump up in performance, now over 60hp at the wheels, but that post will come later as still sorting some things out with the tune for it.
But with more horse power comes the need to have better stopping power too. I've got a front caliper bracket coming from rsvracing (thanks
@Oyabun
for the recommendation) and have a larger, full-floating caliper from a Triumph Street Triple to bolt up to it once the bracket arrives. (
Still single rotor braking
)
I expect that with the different caliper design, more fluid/force will need to go through it than what the oem master cylinder does. That, and with the clip-ons I have, I hate the look of the reservoir sitting on such a steep angle and seek to remedy that with a setup that has a remote reservoir.
Looking for recommendations and what to look out for (
i.e. piston size
) with upgrading the front master cylinder.
I was considered the Brembo rcs19 albeit a bit exy, but even more so with the exchange rate currently, that's well and truly out of the ball park for budget allowance.
Bonus points if can get something that has a matching (cable) clutch lever as well.
I see a few on eBay at varying degrees of 'trustworthness', I like the look of these Adelin ones and comes with matching clutch lever. Although not the cheapest Chinese offering, still a little dubious putting my faith in them. Anyone else had experience with these?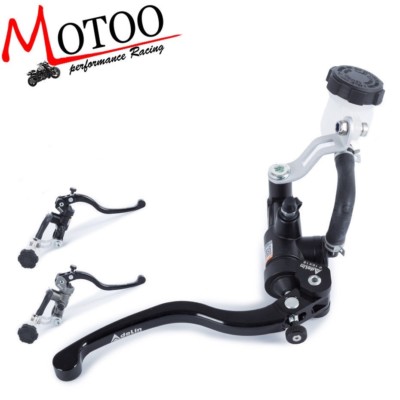 1 x Piece Lever with Reservoir As Pictures. The radial master cylinder has effectively revolutionized motorcycle braking systems over the past ten years. Designed originally for use on racing machines.
Or maybe something that can be retrofitted from another bike that already has similar config (large full-floating caliper on single rotor)