Junior Member
Join Date: May 2019
Posts: 3
Spools installation *new rider*
---
Hello, I just bought my first bike a 2014 Cbr500r. I also bought a rear stand from venom and spools to install to make it easier to lift the bike. I watched a bunch of videos on how to instal the spools and realized i have to install the mounting bracket for my spools at the same spot as my adjuster nuts that adjust my chain.I need to remove the nuts in order to add the mounting bracket. So by removing the nuts will this affect the chain tightness? and after I install the spools if i want to adjust my chain do I have to remove the spools each time or can I adjust the chain with the spools still on? (Since the adjusters will now be after the mounting bracket). I am a new rider so if someone can explain this to me in detail it will be greatly appreciated!!
Junior Member
Join Date: May 2019
Posts: 3
Senior Member
Join Date: Jul 2013
Location: Sault Ste. Marie, ON, Canada
Posts: 1,608
Double post and then bump...
I have refrained from replying because I'm not very mechanical, and this is not my wheelhouse, but if memory serves the available spools are mounted to the axle itself more or less. If I recall correctly, adjusting the chain slack requires loosening the axle nut, but you don't fully disassemble anything. I'd assume that this procedure can be done with the spools installed.
That said, I have a set of pit bull stands that lift the rear end by the swingarm. That has never given me trouble. Sure, in theory, the security of spools is awesome, but in practice unless you plan to leave the bike on the stands overnight it doesn't really matter.
---
I mean the best with what I say. It doesn't always sound that way.
2013 Honda CBR500R (Millennium Red) (Completely stock)
FirstGear Kilimanjaro High-Visibility, Joe Rocket Ballistic Boots, Scorpion Exo R2000, Alpinestars Raider Drystar Pants or Scorpion Covert Jeans, Icon Hypersport Pro Short Gloves
Castrol Chainlube, Pro Honda GN4, Pro Honda Dot 4, 87 octane AKI
Kriega R-35, Air Hawk Dual Sport, Go Cruise 2, Grip Puppies

To view links or images in signatures your post count must be 10 or greater. You currently have 0 posts.

Senior Member
Join Date: Mar 2018
Location: Boston, MA
Posts: 154
---
ď
If at first you donít succeed, donít become a Paratrooper.Ē
Senior Member
Join Date: Dec 2014
Location: SoCal
Posts: 597
i have the T-REX RACING spools which clamp around the swingarm. they do not interfere with the chain adjustment or axle nuts.
https://www.t-rex-racing.com/2013-20...p/n40-13sa.htm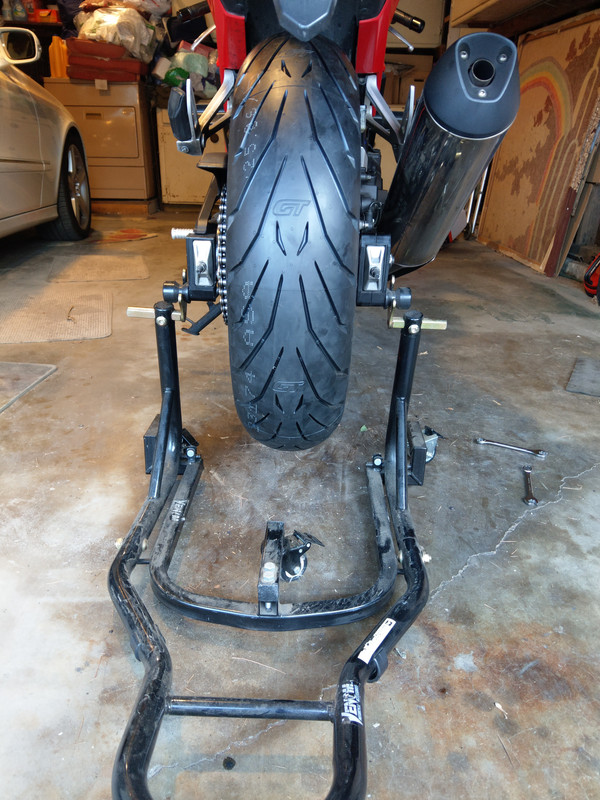 ---
2013 CBR500RA AC MILLENNIUM RED
these are the ones we bought, they work....not the greatest but they do work. Done about 15 wheel changes with them on, haven't had an issue